Vampire Facial
Blood Facial
PRP Facial
BRIGHTEN & TIGHTEN
your skin
with
VAMPIRE FACIAL
treatment in Rajkot
at Vivid Skin Care
Vampire Facial
What is Vampire Facial?
Vampire Facial also known as Blood Facial is a process where a patient's blood is drawn, platelets / growth factors are separated and concentrated through a process called centrifugation, and then massaged into desired areas of the face with dermapen.
Why choose Vampire Facial?
Here are top 7️⃣ reasons to choose Vampire Facial.
1️⃣ Next generation treatment.
2️⃣ Less downtime. No admission required.
3️⃣ Minimal pain.
4️⃣ No harmful chemicals are used.
5️⃣ Ideal for individuals whose skin problems are at an early stage.
6️⃣ It is a non-surgical treatment.
7️⃣ It's safe as patient's own blood is used.
What are the benefits of Vampire Facial on Skin?
Check out 8️⃣ different benefits of Vampire Facial on Skin.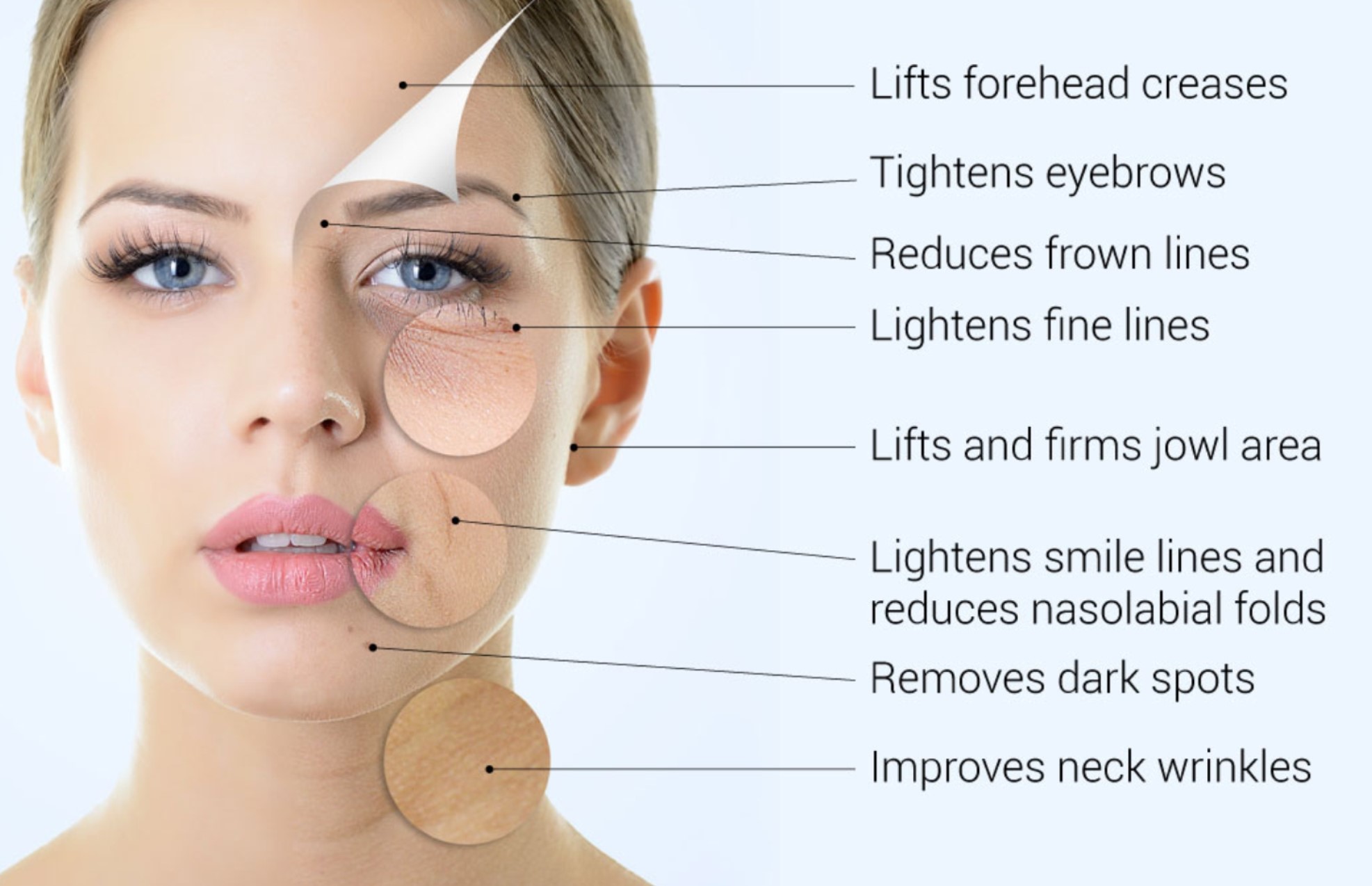 How Vampire Facial treatment is done?
Just 3️⃣ steps and we're done ✔️.
Step 1️⃣. Collection of Blood
Step 2️⃣. Separation of PRP / GFC
Single Spin Method
Double Spin Method
Vivid Modified Method for optimum results
Step 3️⃣. Infusion (Platelet or Growth Factors rich plasma is infused into Facial Skin with Dermapen)
How much time is required for single Vampire Facial session?
Time required for a Vampire Facial session is approximately 90 minutes ⏱️.
How much gap will be there between two Vampire Facial sessions?
Ideal gap between two sessions is 30 days 🗓️.
What to expect after treatment?
A Vampire Facial treatment will consist of 6️⃣ sessions on average, done at gap of 1-1.5 month.
Results usually start showing up after 3 sessions.
Results vary from person to person.
Booster sessions can be done every 3-6 months as per need.
What will be the cost of Vampire Facial treatment?
Cost of Vampire Facial therapy 💵 depends on:
👉 Quality and cost and number of kits used to prepare injectable solution. (It's important because low quality non sterile kits can get your scalp infected)
👉 Experience and expertise of the treating doctor.
So exact cost can only be determined after consultation with the dermatologist.
What is used for Vampire Facial?
Vampire Facial is done by PRP or GFC either by injecting or applying with dermapen over facial skin.
CRITERIA
PRP
GFC
Discovery
Old treatment

Latest therapy

Prepared from

Own blood
Own blood

Final outcome

Platelets with some unwanted cells
Only high concentration of growth factors derived from platelet activation
Consistency
Variable
Consistent
Results
Variable
Optimum & takes less time

Number of

sessions

required

More
Less
Pain during procedure
Moderate

Very less

Risk of

Infection

Less
Less
When to go for Vampire Facial?
Vampire Facial can be done for
Facial rejuvenation
Under-eye pigmentation
Facial pigmentation
Fine Line & Wrinkles over face
So if you're looking to enhance your skin in the best, possible manner, Dr. Pratik Sheth's Vivid Skin Care & Cosmetology Centre is just the right name for your search.
Your consultation for Vampire Facelift will include

Assessment of Facial Skin by M.D. Dermatologist.

Discuss Treatment Options

Customised Treatment Plan

Home Care Instructions
Photo Gallery
FAQs
There are many benefits to the vampire facial, including boosting the turnover of skin cells, improving skin tone and texture. Microneedling with PRP will also reduce fine lines and signs of aging.
It is equally effective in both men and women.
Yes, it can be combined with other anti aging treatments but gap between two sessions must be minimum two weeks.
The pain is subjective and patient specific. Some people perceive it like hot massage and some find it unbearable. For sensitive individuals we suggest numbing gel or topical anaesthesia one hour prior to procedure which reduces the pain sensation considerably. Alternately nerve blocks can be given for better pain control.
Vampire Facial therapy with PRP / GFC is safe and natural because the procedure concentrates the cells from your own blood directly back into the area where it is needed. Hence is not rejected by your immune system and there are absolutely no chance of getting any infection, allergy or hypersensitivity. However one can get mild redness, bruising or headache which responds well to routine analgesics.
You can wash your face with mild cleanser or mild soap after few hours of treatment.
The usual precaution is not to touch the face and no salon treatments for minimum 10-14 days.
Absolutely, it can be used in conjunction with other topical and oral medications as per advice of your dermatologist.
A
Vampire Facelift
is a cosmetic procedure in which both plasma and a hyaluronic acid filler is injected into desired areas of skin.
While in Vampire Facial, growth factors rich plasma is infused into the skin with the help of microneedling by dermapen or dermaroller.
In addition to being safer and producing more natural results, Vampire Facial effects lasts longer than Botox. On average, a series of Vampire Facial treatments can provide a refreshed and more youthful appearance for up to 18 months, while Botox results only last 3-4 months.
Why VIVID Skin Care & Cosmetology Centre

US-FDA Approved Equipments
Expert Dermatologist Dr. Pratik Sheth

Patient Satisfaction

State of the art Technology

Result Oriented Treatments
What Patients Says
Reviews
As far As I know, Dr.Pratik Sheth, is the only Dermatologist in Rajkot, whose treatment are highly focused around Clinical Healing rather than superficial Cosmetic Corrections. Have Consulted him personally and referred multiple patients. Every time Highly Professional and Quality Care received.
Great treatment and I m well satisfied
It was excellent experience vivid skin care and knowledgeable staff and highly experience
Excellent results given by dr pratik Sheth sir thank you so much sir
Perfect treatment with awesome result..
Vivid as its name suggests is actually vivid. Dr Pratik Sheth is a highly experienced Dermatologist with in depth knowledge of the subject. He counsels very nicely with focus on each and every aspects of treatment details. One can get all dermatology treatment at vivid like vitiligo surgery , hair transplant, hair reduction, Laser scar removal etc.
Dr. Pratik guided one of my employee, had lead to excellent results and has very good staff. I would recommend dr. pratik to everyone for skin related ailments. Keep up good work Doc.
Dr. Pratik provides excellent skincare solutions, but the service at the medical center nearby can be slow, particularly when it comes to dispensing prescribed medications. Despite this, I still recommend Dr. Pratik for his expertise and personalized care.
Very good treatment with better results in skin treatment at vivid skin care
Very knowledgeable doctor and friendly staff.
Very nice treatment and the nature of doctor is very nice