Stretch Mark Removal Treatment
Dermatologist in Rajkot
Skin Doctor in Rajkot
Hair Transplant in Rajkot
Laser facial in Rajkot
VIVID Skin Care & Cosmetology Centre
Stretch Marks
LOOKS 'UGLY'
Get your
Stretch Marks Removal Treatment in Rajkot
at Vivid Skin Care
Stretch Marks Removal
Does stretch marks indicate a problem?
Stretch marks usually occur whenever the skin of an individual changes shape rapidly due to growth or sudden weight gain.
Also make a note that they are not a sign that demonstrates anything is wrong with your health.
What Are Stretch Marks and Why This Happen?
Striae distensae (SD) commonly known as stretch marks are visible linear scars which develop in areas of dermal damage as a result of excessive stretching of the skin.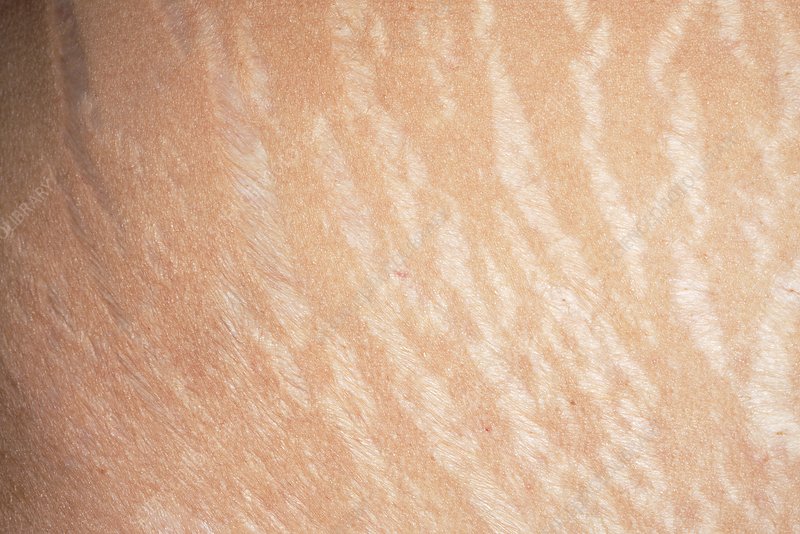 It can appear on the chest, shoulders, arms, abdomen, breasts, hips, buttocks or other places on the body.
The common causes of stress marks can include during or after pregnancy, stretching of the skin during exercise, or sometimes due to some diseases as well.
What Are the Types of Stretchmarks?
Stretch marks are two types.
1. Red stretch marks
2. White Strech marks
In early-stage, stretch marks will be red where the treatment is comparatively easier and less complicated. But if these turn into the white ones, it turns more difficult to be treated.
Thus, try consulting a M.D. qualified dermatologist at the earliest after realizing the occurrence of stretch marks.
How to remove / reduce / get rid of stretch marks?
We offer wide range of treatments for stretch marks ranging from
Fractional CO2 Laser (Most Recommended)
Collagen Induction Therapy / Micro-needling with dermaroller or dermapen
PRP and latest Growth factor concentrate (GFC) therapy.
Chemical peels
Usually one or more treatments are combined to get optimal and faster results.
The primary function of these treatments is to induce collagen tissue in the stretch marks, depending upon the body's response.
How much result can be expected from Stretch Marks treatments?
Keeping the transparency, a complete replacement of tissue is not possible, but good result can be seen in terms of improvement in appearance of stretch marks if patient continues treatment as advised by Dr. Pratik Sheth.
Also, the amount of collagen your body produces decides the visibility of the outcome through treatments for stretch marks.
Therefore, make a note that the results might vary from person to person.
If your scar mark is not deep, then results can get visible within months. But if not the case, it might take few more months for the visibility of the result.
Your consultation for Stretch Marks will include

Assessment of Stretch Marks by M.D. Dermatologist.
Discuss Treatment Options

Customised Treatment Plan

Home Care Instructions
Photo Gallery
Why VIVID Skin Care & Cosmetology Centre

US-FDA Approved Equipments
Expert Dermatologist Dr. Pratik Sheth

Patient Satisfaction

State of the art Technology

Result Oriented Treatments
What Patients Says
Reviews
As far As I know, Dr.Pratik Sheth, is the only Dermatologist in Rajkot, whose treatment are highly focused around Clinical Healing rather than superficial Cosmetic Corrections. Have Consulted him personally and referred multiple patients. Every time Highly Professional and Quality Care received.
Great treatment and I m well satisfied
It was excellent experience vivid skin care and knowledgeable staff and highly experience
Excellent results given by dr pratik Sheth sir thank you so much sir
Perfect treatment with awesome result..
Vivid as its name suggests is actually vivid. Dr Pratik Sheth is a highly experienced Dermatologist with in depth knowledge of the subject. He counsels very nicely with focus on each and every aspects of treatment details. One can get all dermatology treatment at vivid like vitiligo surgery , hair transplant, hair reduction, Laser scar removal etc.
Dr. Pratik guided one of my employee, had lead to excellent results and has very good staff. I would recommend dr. pratik to everyone for skin related ailments. Keep up good work Doc.
Dr. Pratik provides excellent skincare solutions, but the service at the medical center nearby can be slow, particularly when it comes to dispensing prescribed medications. Despite this, I still recommend Dr. Pratik for his expertise and personalized care.
Very good treatment with better results in skin treatment at vivid skin care
Very knowledgeable doctor and friendly staff.
Very nice treatment and the nature of doctor is very nice