Laser Hair Removal in Rajkot
Laser Hair Reduction in Rajkot
Say Good bye to Unwanted Hair!
Laser Hair Removal in Rajkot
Safe
Affordable
Relatively Painless
Triple Wavelength Laser
Laser Hair Removal in Rajkot
It's not just for Women
Men can get it too ✔️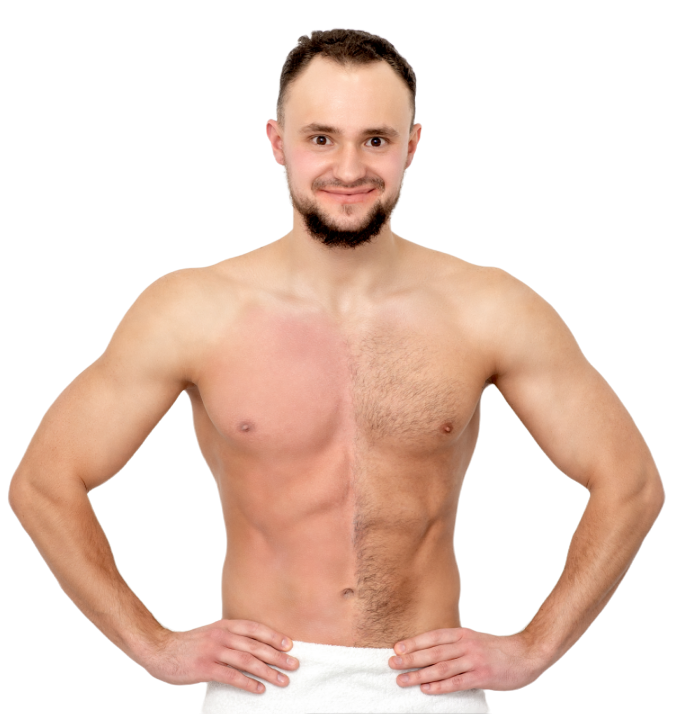 Laser Hair Reduction
What is Laser Hair Reduction?
Laser hair Removal or Reduction (LHR) is an advanced treatment that is used to stop new hair growth for a longer duration thereby giving you a clearer, smooth skin.
Why choose Laser Hair Reduction?
5️⃣ reasons to choose Laser Hair Removal or Reduction at Vivid Skin Care in Rajkot.
1️⃣ It's Precise ✔️
You won't miss any patches of hair like you might with shaving or waxing.
It works well for any skin tone.
2️⃣ It's Permanent ✔️
Upto 95% of targeted hair will be totally gone after 6 sessions.
No more stubble from shaving.
3️⃣ It saves Money ✔️
No more money spent on waxing and shaving supplies.
Lifetime cost of LHR is less than other traditional hair removal methods.
4️⃣ It's Easy ✔️
Treatments are fast
Numbing cream can be used to make treatment more comfortable.
5️⃣ It can be done on any hairy area of body ✔️
Underarms, Face, chest, back, hands, legs, etc.
Why it's advisable to get Laser Hair Reduction done only by certified Dermatologist?
A Dermatologist is qualified 🥇, extensively trained, experienced & certified for Laser Hair Removal treatment.
Dermatologist treats patient as a whole, focusses on both aspects, underlying problems from inside as well as hair reduction procedure from outside.
It's like who can better fly an aeroplane, Certified Pilot or any person other than pilot !?
Is it necessary to consult certified Dermatologist before starting LHR?
Consulting a certified and experienced Dermatologist 🥇 is of utmost importance before planning to go for the laser hair reduction treatment. Your Dermatologist might talk about:
Reviewing your medical history about hormonal conditions like PCOS.
Discuss risks, benefits and expectations
Avoiding other hair reduction methods until treatment
After proper history & examination, your Dermatologist will recommend you for appropriate laser treatment.
Which Laser is used for Laser Hair Reduction?
As per your skin type and skin colour, your Dermatologist will recommend below lasers that are highly effective in laser hair reduction. These are some technologies used for laser hair reduction in Rajkot –
Triple Wavelength Laser - Latest and most advanced Laser. This Laser is useful for all skin types, means ideal for Indian skin. (Recommended)
Older Technologies are:
Diode - This laser is good for type I to type IV skin, means ideal for India skin. Not useful in darker skin types.
Long Pulse Nd-YAG lasers – This laser is good for dark skinned people. Most of south Indian dermatologists prefer this laser.
Intense pulsed light (IPL)- These devices are not laser but flash lamps that emits multiple wavebands of light simultaneously. They work in a similar way to lasers. They are less effectively and they are much less likely to permanently remove hair.
What are the benefits of Triple Wavelength Laser?
Benefits of Triple Wavelength Laser:
✔️ Perfect for both males and females
✔️ Virtually painless
✔️ Most suitable for all complexions
✔️Sole advanced hair reduction system that uses all the three wavelengths including Alex (755 nm), Diode (808 nm) and Yag (1064 nm), simultaneously.
✔️Highly-safe and effective hair reduction treatment for all types of skin
✔️Super-quick treatment sessions even for larger body areas
✔️No downtime of treatment
How Laser works on unwanted hair?
In simple terms, Laser hair reduction works by heating the hair follicles to stop the growth of new hairs. In this process energy from the Laser is selectively absorbed by the hair root that burns the unwanted hair. Laser hair reduction requires expertise and should be done by a certified dermatologist only.
Which are the most popular areas for Laser Hair Reduction?
The most popular areas for Females are:
The most popular areas for Males are: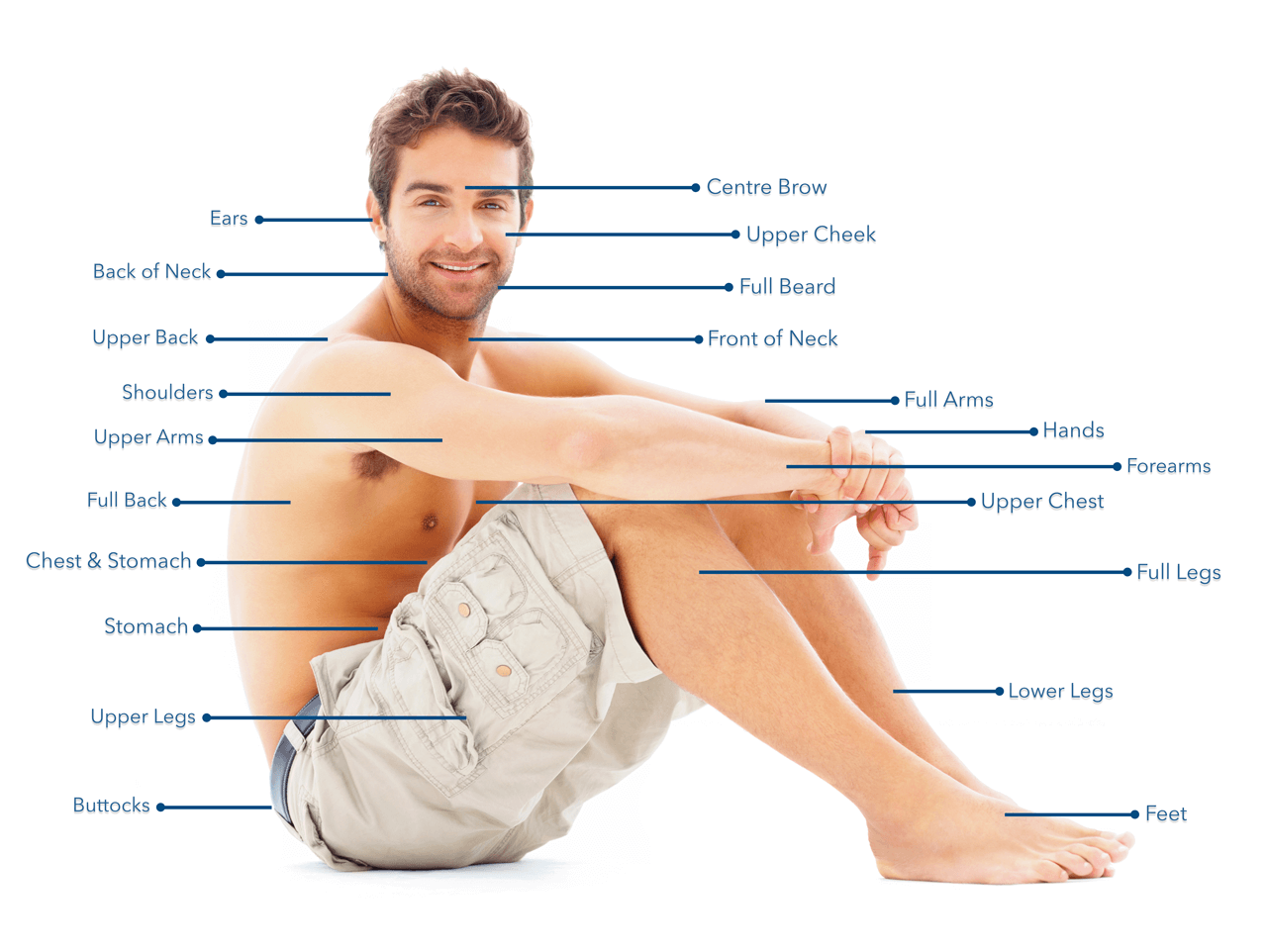 How many laser hair removal treatments will I need?
Here we are talking about laser hair reduction, not laser hair removal.
On an average 6-10 sitting will be required to get 70-90% result.
You can get better results if – hair is thick and dark. So it depends on person to person.
Make it clear that most of time maintenance sittings are required to sustain the effect.
We have some patients who are happy after four treatments, and a tiny minority who have needed more than eight — but far fewer than you would need to achieve clearance using any other method of hair removal.
It may take more sessions if there is underlying horomonal problems like PCOS, etc.
What can I expect from Laser Hair Reduction?
Here is the sequence of events that takes places during and after and LHR session.
Are there any side effects of Laser Hair Reduction?
Although our laser is quite safe but some temporary side effects include moderate discomfort, swelling or redness may happen which subsides in a few days.
Other possible side effects that may happen, includes-
Burning and Blistering followed by scarring
Skin lightening or darkening
Reactivation of Herpes simplex (cold sores)
If laser hair reduction is done by a certified dermatologist or under his guidance/ supervision, the complications are rare.
Your LHR Consultation will include

Hair & Hormonal assessment by M.D. Dermatologist

Discuss Risks, Benefits & Expectations

Customized LHR & Treatment Plan

Home Care Instructions
Photo Gallery
Videos
Real Patient...Real Results. Say goodbye to unwanted hair! ✨
Say goodbye to unwanted hair! ✨with our Triple Wavelength Laser Hair Removal / Reduction ✨
FAQs
Excessive hair growth can be associated with certain medications, stress and obesity.
More serious causes can be an abnormality in the endocrine system, such as irregular menstrual cycles; ovarian disorders, such as Polycystic Ovarian Syndrome (PCOS); and thyroid abnormalities.
If you suspect any of these conditions — or if during your skin evaluation we suspect any of them – we will always recommend that you seek a medical evaluation.

There really is no age limit, but we never treat toddlers.
Ideal age group for LHR is 13 years to 45 years.

Young people that are not finished growing will develop new hair as they grow, and will require touch ups to maintain the results.

We currently do not treat children under the age of 13.

Older aged people usually have gray hair that will not respond to laser.

Laser is a hair reduction treatment and not a hair removal procedure. It works on the hair follicles, reducing their fertility and capacity to re-grow. In 6-8 sessions, it drastically reduces hair growth, thus resulting is permanently smooth, soft skin.
A number of factors determine the length of time for a treatment. At VIVID, we plan for adequate time to go as slowly or as fast as is comfortable and appropriate for each patient. The size and "topography" of the area treated factors into the time required, as does the amount of preparation. As a general rule, legs and backs take an hour to an hour and a half, while an upper lip or the tops of ears may require eight to 10 minutes. The front of the neck or underarms can take as little as 20 minutes.
Hair grows in repeating cycles, and only in the actively growing phase does the hair contain enough pigment to absorb sufficient energy to disable the hair follicle. When hair is in the dormant phase, it has little or no pigment, and it cannot absorb the laser light. When you come in for your treatment, we disable all of the hair follicles with actively growing hair in the treatment area. A few weeks later, some of your dormant hairs will have moved into the actively growing stage, and you will come in for a treatment to disable those. As this cycle gets repeated, you experience increasing reduction of hair.
Cost per session depends on the areas you are planning for laser hair reduction. Facial laser hair reduction, Under arms laser hair reduction, Bikini laser hair reduction or Full body laser hair reduction. So, visit the clinic for more details.

That is a myth: Laser is NOT more expensive, especially when you factor in the value of your time. Certainly there is an up-front expenditure for a series of laser treatments – but you quickly get a return on your investment, all the while achieving your goal of hair removal!
You may experience a small but manageable sensation that we describe as a "pinch" or a "zap" when we pulse the laser. Most of our former patients report that the discomfort is far less than those methods of hair removal. Stress, fatigue, caffeine, your menstrual cycle and pain tolerance may also influence the level of comfort — or discomfort — that you feel.
It is highly advisable to shave before getting a laser Hair Reduction session done. This ensures that there is no hair above the skin which the laser machine will pick. Laser machine tends to target the hair above/ below the skin. Shaving ensures there is no hair above the skin that the laser machine will target, hence preventing potential burns. It is highly advisable not to shave at home, instead let the technician shave just before doing the laser session.
Do not Wax during the course of the procedure even pre-post the sessions.
Laser hair reduction is a process that needs due care both on the part of the technician/doctor as well as on the part of the patient.
The following care check-list is highly recommended:-
Avoid sun exposure for at least 4-6 weeks prior and post the procedure.
Avoid makeup, facials and excessive rubbing or any other skin treatment for minimun one week before and after the procedure.

Do not pluck/ wax hair while under-going laser hair reduction (Even pre/post the session).
Apply post care ointments, moisturiser and thick coat of sunscreen as advised by the treating doctor.
You can do cold sponging to get relief from redness.
Your Dermatologist may prescribe medicines to reduce redness that can be applied for 5-7 days.
In case you have extremely dense/ fast re-growth, a maintenance touch up session is advisable every 6-12 months.
People often have a misconception that laser causes cancer. The light energy used in laser hair removal only facilitates superficial heating and destruction of hair follicles, thereby resulting in permanent hair reduction. Research proves there is no risk of cancer because of laser.
This is another misconception that People often have viz. Laser has long term side effects. The fact is that laser has no side effects. Our laser ChillTip technology is completely safe with no long term side effects. Temporary side effects like redness, scarring, superficial discoloration of the treated area happens during the procedure but settles down with due post care, as advised by treating doctor.
We do not recommend LHR during pregnancy.
Lasers remove hair for good, giving you a long-lasting, even permanent result. In only a few treatments, we can clear your skin of the unwanted hair that has bothered you for so long.
Traditional hair removal methods, such as waxing, shaving, depilatory creams, plucking/tweezing, sugaring, and stringing provide only temporary results — some for fewer than 24 hours. Within hours or possibly days, you are back at it again, hunched over a magnifying mirror to tweeze out facial hair, running a razor over tender skin, or enduring painful waxing. To make it worse, these methods can often stimulate hair growth!

Once you start LHR, you begin your life of being hair free where you want to be!

We use ChillTip based Advanced Contact Cooling System to protect your outer skin during a laser hair reduction treatment. The laser's light emerges through a handpiece that is pressed against your skin, to instantly remove the heat that gives you a little "pinch" feeling as the laser pulses. You experience minimum discomfort during a Laser treatment, and many of our patients report that the sensation is much more comfortable than waxing, electrolysis, or even tweezing!
Why VIVID Skin Care & Cosmetology Centre

US-FDA Approved Equipments
Expert Dermatologist Dr. Pratik Sheth

Patient Satisfaction

State of the art Technology

Result Oriented Treatments
What Patients Says
Reviews
As far As I know, Dr.Pratik Sheth, is the only Dermatologist in Rajkot, whose treatment are highly focused around Clinical Healing rather than superficial Cosmetic Corrections. Have Consulted him personally and referred multiple patients. Every time Highly Professional and Quality Care received.
Great treatment and I m well satisfied
It was excellent experience vivid skin care and knowledgeable staff and highly experience
Excellent results given by dr pratik Sheth sir thank you so much sir
Perfect treatment with awesome result..
Vivid as its name suggests is actually vivid. Dr Pratik Sheth is a highly experienced Dermatologist with in depth knowledge of the subject. He counsels very nicely with focus on each and every aspects of treatment details. One can get all dermatology treatment at vivid like vitiligo surgery , hair transplant, hair reduction, Laser scar removal etc.
Dr. Pratik guided one of my employee, had lead to excellent results and has very good staff. I would recommend dr. pratik to everyone for skin related ailments. Keep up good work Doc.
Dr. Pratik provides excellent skincare solutions, but the service at the medical center nearby can be slow, particularly when it comes to dispensing prescribed medications. Despite this, I still recommend Dr. Pratik for his expertise and personalized care.
Very good treatment with better results in skin treatment at vivid skin care
Very knowledgeable doctor and friendly staff.
Very nice treatment and the nature of doctor is very nice