Fractional CO2 Laser Treatment for Acne Scars in Rajkot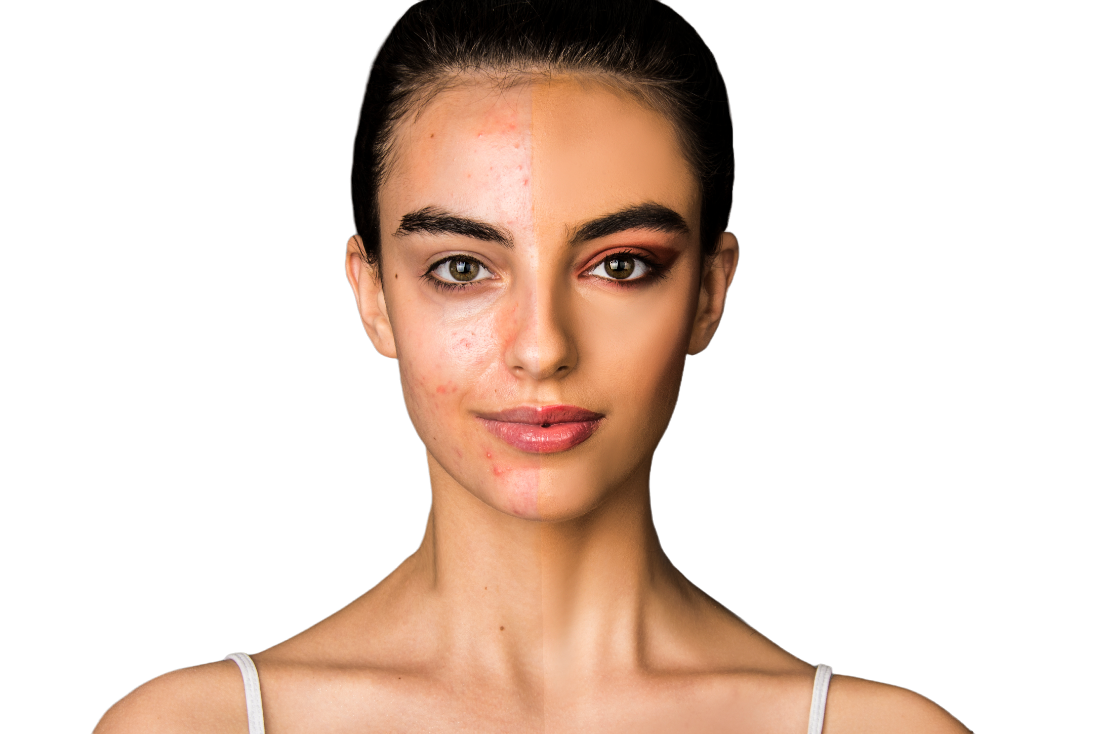 Say Good bye to
Acne Scars !
Get treated with
Fractional CO2 Laser in Rajkot
at Vivid Skin Care
Fractional CO2 Laser Treatment
---
Are you tired of looking in the mirror and seeing acne scars staring back at you?
Say goodbye to those scars and hello to smooth, flawless skin with our Fractional CO2 Laser treatment!
---
Our Fractional CO2 Laser treatment is a cutting-edge procedure that uses laser technology to target acne scars and stimulate collagen production.
The result? Smoother, clearer skin in just a few sessions! Plus, the procedure is non-invasive, with minimal discomfort and no downtime.
---
Imagine waking up every day with clear, radiant skin that you're proud to show off. Imagine feeling confident and beautiful, without having to cover up your acne scars with makeup or clothing.
With our Fractional CO2 Laser treatment, this can be your reality!
---
What is Fractional CO2 Laser treatment?
Fractional CO2 Laser treatment is a cosmetic procedure that uses a laser to target and treat acne scars. The laser works by creating tiny holes in the skin, which triggers the body's natural healing process and promotes the growth of new, healthy skin cells. Over time, the new skin cells can help reduce the appearance of acne scars.
What are the benefits of Fractional CO2 laser treatment?
Check out 5️⃣ different benefits of Fractional CO2 laser treatment for acne scars in Rajkot.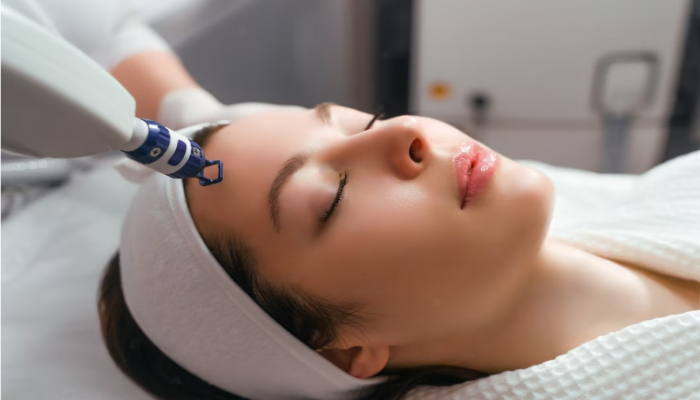 1️⃣ Reduces the depth of scars.
2️⃣ Tightens open pores.
3️⃣ Improves skin texture, thereby providing smooth skin.
4️⃣ Creates even skin tone.
5️⃣ Reduces wrinkles and fine lines.
How does Fractional CO2 Laser treatment work for acne scars?
During the treatment, the laser creates tiny, controlled injuries in the skin, which stimulates the production of collagen and elastin, two essential proteins that help keep skin firm and supple. The production of these proteins can help smooth out the texture of acne scars and improve overall skin tone.
What can I expect during the Fractional CO2 Laser treatment?
The treatment is generally well-tolerated, but some patients may experience mild discomfort or a sensation of heat during the procedure. We will apply a topical numbing cream to the treatment area before the procedure to help reduce any discomfort. The treatment typically takes about 30-45 minutes to complete, depending on the size and location of the treatment area.
How long does it take to see results?
You may start to see some improvement in the appearance of your acne scars within a few weeks of the treatment. However, it can take several months for the full results to be visible, as the body needs time to produce new collagen and elastin.
Are there any side effects to Fractional CO2 Laser treatment?
Like any cosmetic procedure, there is a risk of side effects, but they are generally mild and temporary. You may experience redness, swelling, or mild discomfort in the treatment area immediately after the procedure. These side effects usually resolve within a few days. We will provide you with detailed aftercare instructions to help minimize any side effects.
How many treatments will I need?
The number of treatments needed varies depending on the severity of your acne scars and your individual treatment goals. Most patients require 3-5 treatments spaced about 4-6 weeks apart to achieve optimal results.
Is Fractional CO2 Laser treatment safe?
Fractional CO2 Laser treatment is generally considered safe when performed by a qualified and experienced practitioner. However, as with any medical procedure, there are risks involved, and it's important to discuss any concerns with your practitioner before undergoing treatment.
How do I prepare for Fractional CO2 Laser treatment?
Before your treatment, you should avoid sun exposure and tanning for at least two weeks. You should also avoid using any products that contain retinoids or glycolic acid for at least one week before your treatment. It's also important to inform your practitioner of any medications or supplements you are taking, as some may need to be stopped or adjusted before the procedure.
How long is the recovery period?
The recovery period for Fractional CO2 Laser treatment varies depending on the size and location of the treatment area. Most patients experience redness and swelling for a few days after the procedure, but this usually resolves within a week. You will be given detailed aftercare instructions to help minimize any discomfort and promote healing.
How long do the results of Fractional CO2 Laser treatment last?
The results of Fractional CO2 Laser treatment can last for several years, but they may not be permanent. The longevity of the results depends on several factors, including the severity of the acne scars, the patient's age and skin type, and their overall skin care routine. It's important to maintain a good skin care regimen and avoid sun exposure to help prolong the results of the treatment.
Why you should choose Fractional CO2 laser treatment for acne scars in Rajkot at Vivid Skin Care?
Here are top 7️⃣ reasons to choose Fractional CO2 laser treatment for acne scars in Rajkot at Vivid Skin Care & Cosmetology Centre.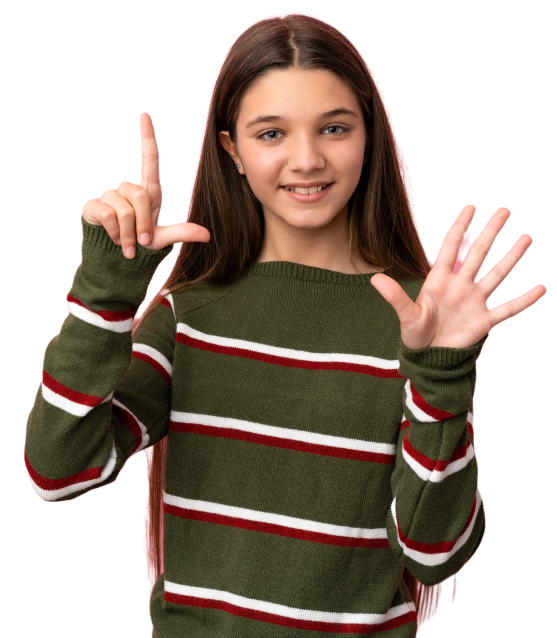 1️⃣ Next generation revolutionary treatment.
2️⃣ Less downtime. No admission required.
3️⃣ Relatively painless.
4️⃣ No harmful chemicals are used.
5️⃣ Ideal for individuals having deep scars and multiple types of scars.
6️⃣ It is a non invasive, non-surgical treatment.
7️⃣ It's safe as it is done by qualified MD dermatologist Dr. Pratik Sheth.
Don't wait any longer to achieve the flawless skin of your dreams!
Our experienced team of professionals will work with you to create a customized treatment plan that meets your unique needs and goals.
Take the first step towards smoother, blemish-free skin today!
Your Acne Scar Treatment consultation will include

Assessment of Acne Scars by M.D. Dermatologist.

Customised Treatment Plan

Discuss Treatment Options

Home Care Instructions
Videos
Most effective way to treat Acne Scars - Fractional CO2 Laser
Why VIVID Skin Care & Cosmetology Centre

US-FDA Approved Equipments
Expert Dermatologist Dr. Pratik Sheth

Patient Satisfaction

State of the art Technology

Result Oriented Treatments
What Patients Says
Reviews
As far As I know, Dr.Pratik Sheth, is the only Dermatologist in Rajkot, whose treatment are highly focused around Clinical Healing rather than superficial Cosmetic Corrections. Have Consulted him personally and referred multiple patients. Every time Highly Professional and Quality Care received.
Great treatment and I m well satisfied
It was excellent experience vivid skin care and knowledgeable staff and highly experience
Excellent results given by dr pratik Sheth sir thank you so much sir
Perfect treatment with awesome result..
Vivid as its name suggests is actually vivid. Dr Pratik Sheth is a highly experienced Dermatologist with in depth knowledge of the subject. He counsels very nicely with focus on each and every aspects of treatment details. One can get all dermatology treatment at vivid like vitiligo surgery , hair transplant, hair reduction, Laser scar removal etc.
Dr. Pratik guided one of my employee, had lead to excellent results and has very good staff. I would recommend dr. pratik to everyone for skin related ailments. Keep up good work Doc.
Dr. Pratik provides excellent skincare solutions, but the service at the medical center nearby can be slow, particularly when it comes to dispensing prescribed medications. Despite this, I still recommend Dr. Pratik for his expertise and personalized care.
Very good treatment with better results in skin treatment at vivid skin care
Very knowledgeable doctor and friendly staff.
Very nice treatment and the nature of doctor is very nice