FUE Hair Transplant in Rajkot
Thicker, Fuller & Healthier Hair
BALD to BOLD
FUE Hair Transplant in Rajkot
at Vivid Skin Care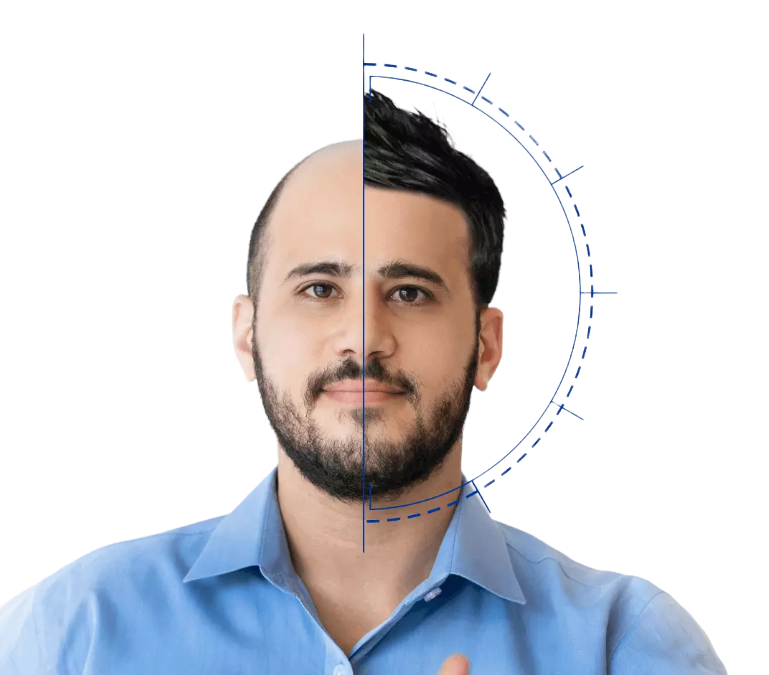 Hair Transplant (FUE)
Tired of looking in the mirror and seeing that ever-growing bald spot? Wishing you could magically rewind time and get your youthful, full head of hair back? Well, you're in luck! Introducing the ultimate solution for male pattern baldness: Hair Transplant!
Imagine walking out of a clinic with the confidence that comes with a thick and luscious mane. Hair transplant is a revolutionary procedure that effectively restores hair in the areas affected by male pattern baldness. By harvesting healthy hair follicles from a donor site, our experts meticulously transplant them to the thinning or balding areas, giving you that enviable, natural-looking hairline.
No more feeling self-conscious at social events or avoiding pool parties for fear of exposing your scalp. With a hair transplant, you can now enjoy the freedom to style your hair the way you want and feel younger and more attractive. Think of all the compliments you'll get and the newfound confidence that'll transform your life.
So, what are you waiting for? Take the first step towards reclaiming your crowning glory! Consult a dermatologist today for more information on hair transplant procedures and find out if it's the right solution for you. Don't let male pattern baldness control your life – it's time to fight back and be the best version of yourself!
What is FUE hair transplant?
The FUE hair transplant in Rajkot is an procedure in which the individual hair follicles are extracted from the backside of the scalp and implanted on bald areas.
FUE (Follicular Unit Extraction) is a minimally invasive procedure to restore hair growth in patients with baldness, hair thinning, or hair loss.
Why is FUE technique so popular?
Follicular Unit Extraction (FUE) is the hair transplant method that has gained more popularity because of following reasons –
Apart from Scalp, donor grafts can also be taken from beard or body hairs.
Less invasive surgery than FUT
No or Minimal bleeding
No Linear scar like FUT
Least chances of scar formation
Healing time is fast – Less downtime
How is the process carried out?
In FUE hair transplant technique, following are some important steps –
Local Anesthesia Sensitivity Test - This is the important step to be done before planning HT for the safety of the patient, which is often neglected by majority of HT centres.
Preoperative Investigations & Fitness assessment by Physician is done.
Hairline Design – The most important step, Dr. Pratik Sheth designs natural and age appropriate hair line for patients. This takes approx. 15-30 minutes.
Hair Trimming and Patient preparation for OT – After hairline design, we trim the hair and get ready for operation theatre. BP, pulse, general condition is assessed by the anaethesiologist to make you comfortable for surgery. After checking everything, we transfer patient in OT.
Slip preparation – After shifting in OT, patient lay down in supine position (on back) and slowly give local anesthesia on recipient area (front area) and makes small slits.
Graft extraction – Then local anaesthesia is given in donor area, and we extract grafts one by one from the "safe zone" on back area of scalp by motorised punch.
Implantation – These grafts are implanted in the slits made on bald area.
Dressing and medication – Dressing is done and patient is explained about post-procedure instructions.
Review – is done after 2 days for first dressing and after 2 weeks for 1st therapy, after that every month visit for 6 months.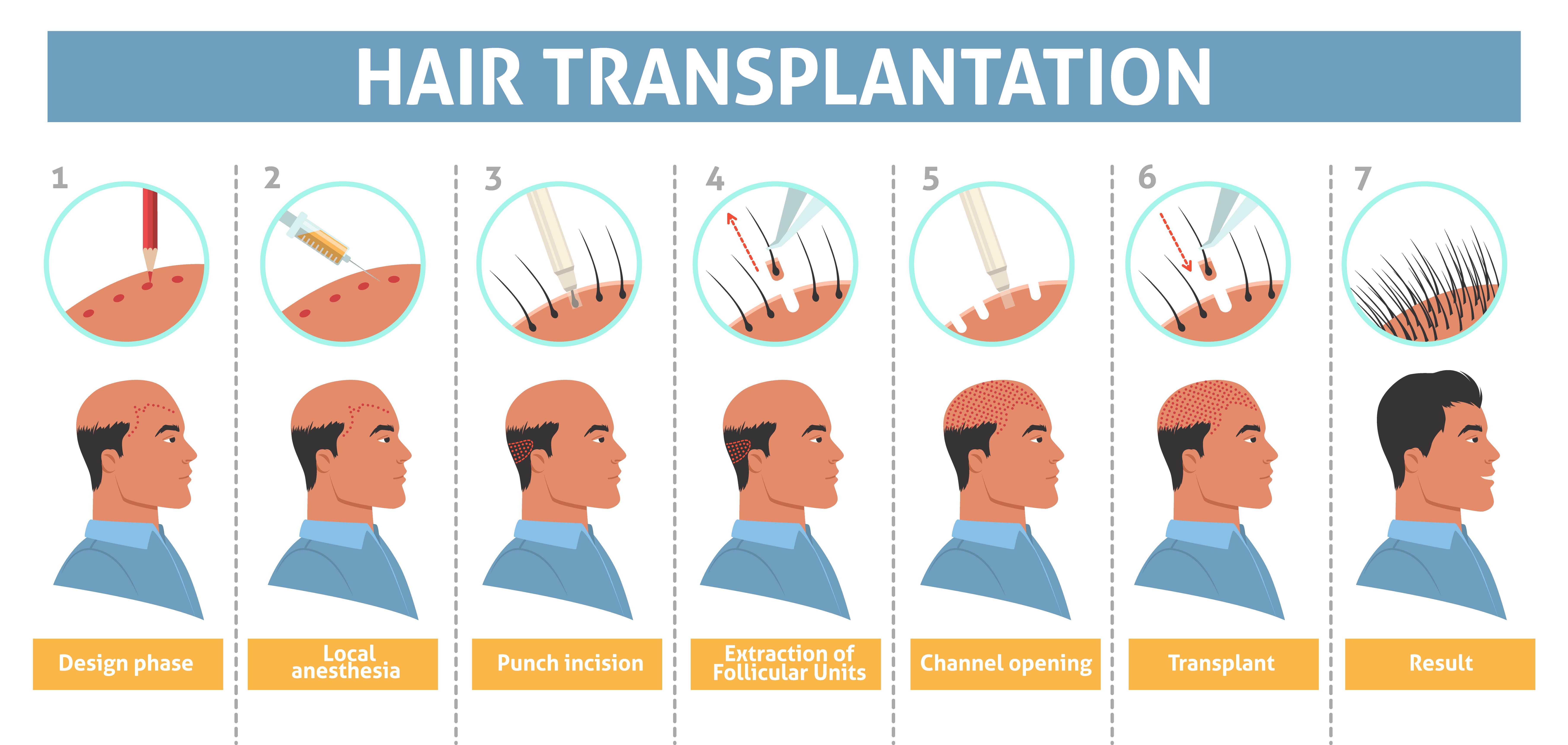 Is this a painful procedure?
Mild pain is felt while giving local anaesthesia and after this the procedure is almost painless.
Why choose VIVID for FUE hair transplant in Rajkot?
Dr. Pratik Sheth is trained by Dr. Sanjeev Vasa, most renowned plastic surgeon in the field of Hair Transplant.
More than 10 years of experience.
Results are nearly natural.
All the safety protocols are followed.
Who is the right candidate for FUE Hair Transplant?
The ideal candidates for FUE hair transplant in Rajkot are:
Men and women who have a stabilised hair loss pattern.
Men whose hair loss condition has progressed beyond class 3 or above on the Norwood scale.
Women who have advanced female pattern hair loss.
One who has realistic expectations.
What to expect after the FUE hair transplant in Rajkot?
The recovery time after FUE is approximately 2-4 weeks, though it may vary from patient to patient.
It is also dependent on other factors such as the type of procedure performed, the extent and severity of baldness, the number of grafts involved, the expertise of the surgeon, etc.
During the recovery period, patients are expected to thoroughly follow the post-operative instructions given by your dermatologist. This helps in ensuring that the patient heals quickly and safely, without any complications.
In case of scalp itching, the patient may take an antihistamine pill after consultation with your dermatologist.
It is recommended to wear a soft, comfortable surgical cap whenever the patient is going out.
Patients are advised to sleep on their back, should have their head on a slightly elevated level and must use soft pillows.
Are there any side effects of FUE hair transplant?
Immediately after the surgery, patients may experience mild pain, discomfort, swelling, or inflammation. However, these issues can be taken care of by anti-inflammatory medications, pain medications, and antibiotics given by your dermatologist.
How Much Does FUE Hair Transplant Cost in Rajkot?
The estimated FUE hair transplant cost in Rajkot is INR 50,000-2,40,000 though it may vary from clinic to clinic. This is simply because the final FUE hair transplant cost in Rajkot depends on a number of factors, including but not limited to the expertise of the hair transplant surgeon, the number of grafts required for FUE hair transplant in Rajkot, etc.
If you are looking for the best FUE hair transplant in Rajkot, you may choose VIVID that is one of the leading Skin & Hair Clinic with medical facilities for the best FUE hair transplant in Rajkot.
We ensure that every patient receives a custom hair loss restoration plan based on their specific requirements and hair loss condition, thereby providing treatment budget friendly to the patient.
We aim to provide natural-looking and top-of-the-line hair transplants to turn your receding hairline into younger-looking, fuller locks.
Visit us now to plan your customised hair loss restoration plan and get the best FUE hair transplant in Rajkot and thereby doing the right treatment for your hair loss condition at the most affordable FUE hair transplant cost in Rajkot.
Restore your confidence today!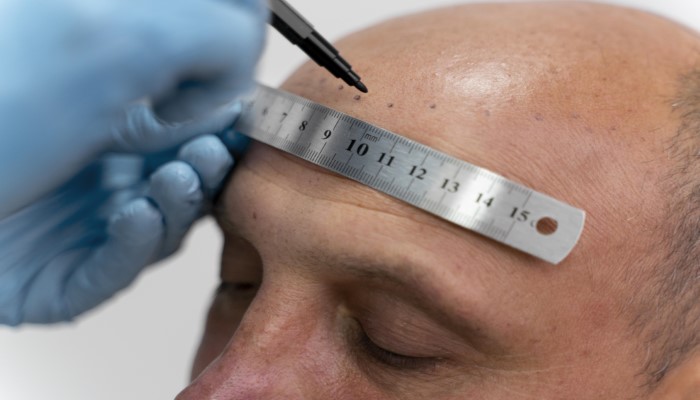 Hair Line Design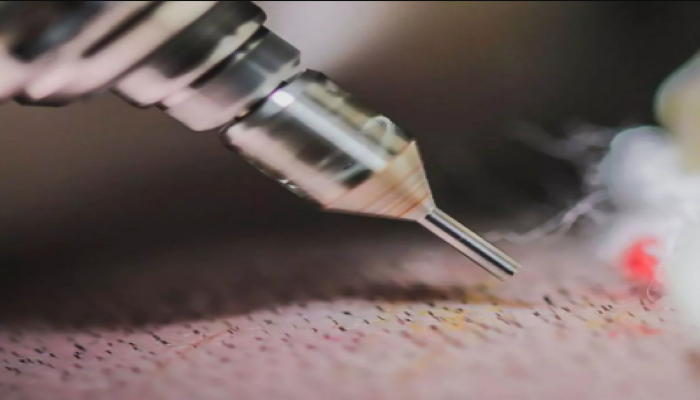 Punch Extraction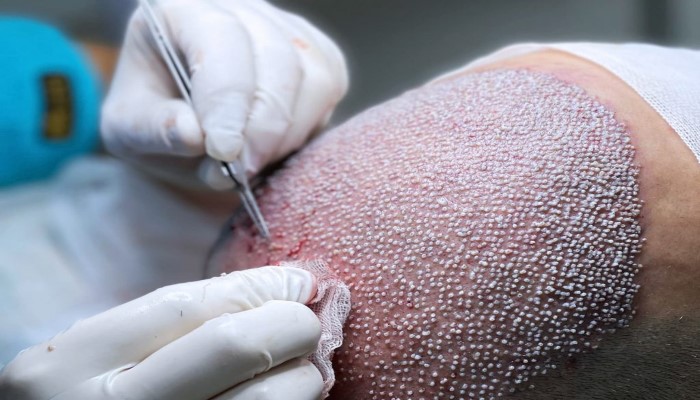 Graft Implantation
After Hair Transplant
Your Hair Transplant Consultation will include

Detailed hair consultation by M.D. Dermatologist

Hair Line Design

Pre Hair Transplant Assessment

Hair Care Instructions
Photo Gallery
Videos
From Hair thinning to Winning! Transform your look by getting Hair Transplant in Rajkot
Patient Experience After Hair Transplant: A Journey to a New Look
6 months result after Hair Transplant - Patient satisfaction 100%
FUE Hair Transplant in Rajkot - Patient Testimonial
FAQs
The duration of surgery depends upon the number of hair follicles to be implanted. Usually, implantation of 3000 grafts requires about 8 hrs and can be done in one day. If more than 3000 grafts are to be implanted, then it is done in two days.
The hair follicles taken from the donor area are not sensitive to the effect of dihydrotestosterone (DHT) hormone which is the main cause of androgenetic alopecia (male pattern baldness), hence the hair follicles taken from this area don't fall over a period of time.
The hair line is drawn seeing the face cut and proportions of the face. While implanting, the direction of implanted hair is matched with existing hair. Final outcome is definitely a natural look.
The transplanted hair fall off temporarily after 1 month of surgery and start growing naturally by 3 to 6 months.
Yes, females can also undergo this treatment.
It is very essential to discuss all your medical problems and medications with your doctor before you are taken up for this surgery. You may be asked to discontinue or modify few medicines before surgery.
Hair transplant is a much simpler surgery than other organ transplants, simply because of the fact that the graft hair used in this technique are taken from one's own body. But if you will take hair from someone else, then there are high chances of graft rejection or you need to take expensive and risky immunosuppressant drugs for the rest of your life.
Yes. PRP after hair transplant is very beneficial for hair growth but it's not strictly compulsory.
Yes. Ideally one should continue taking medicines and apply minoxidil as advised by dermatologist to improve hair growth of transplanted hairs and most importantly to retain existing natural hair.
Why VIVID Skin Care & Cosmetology Centre

US-FDA Approved Equipments
Expert Dermatologist Dr. Pratik Sheth

Patient Satisfaction

State of the art Technology

Result Oriented Treatments
What Patients Says
Reviews
As far As I know, Dr.Pratik Sheth, is the only Dermatologist in Rajkot, whose treatment are highly focused around Clinical Healing rather than superficial Cosmetic Corrections. Have Consulted him personally and referred multiple patients. Every time Highly Professional and Quality Care received.
Great treatment and I m well satisfied
It was excellent experience vivid skin care and knowledgeable staff and highly experience
Excellent results given by dr pratik Sheth sir thank you so much sir
Perfect treatment with awesome result..
Vivid as its name suggests is actually vivid. Dr Pratik Sheth is a highly experienced Dermatologist with in depth knowledge of the subject. He counsels very nicely with focus on each and every aspects of treatment details. One can get all dermatology treatment at vivid like vitiligo surgery , hair transplant, hair reduction, Laser scar removal etc.
Dr. Pratik guided one of my employee, had lead to excellent results and has very good staff. I would recommend dr. pratik to everyone for skin related ailments. Keep up good work Doc.
Dr. Pratik provides excellent skincare solutions, but the service at the medical center nearby can be slow, particularly when it comes to dispensing prescribed medications. Despite this, I still recommend Dr. Pratik for his expertise and personalized care.
Very good treatment with better results in skin treatment at vivid skin care
Very knowledgeable doctor and friendly staff.
Very nice treatment and the nature of doctor is very nice