Male Pattern Baldness
Androgenic Alopecia
Hair Loss in Men
HAIR GAINED is
CONFIDENCE GAINED
Get your
Male pattern baldness treatment in Rajkot
at Vivid Skin Care
Hair Loss in Men (Androgenic Alopecia)
What is Male Pattern Baldness?
Male pattern baldness is also known by androgenetic alopecia, which is the commonest cause behind hair loss in males.
While some take it casually, others can be seen worried about it, thus getting a professional help in terms of restoring their lost glory, the hair.
What Are the Causes of Male Pattern Baldness?
It's caused by genes you get from your parents.
These genes may affect how sensitive your hair follicles are, to a hormone called DHT, which makes them shrink.
As the hairs gets smaller, the hair that grows back tends to be finer, thinner, and shorter. This process is called miniaturization of hair follicle.
What Are the Stages of Male Pattern Baldness?
According to Norwood-Hamilton Grade for Baldness, the stages of male pattern baldness vary from Grade 1 to 7, depending upon the occurrence of it in individuals.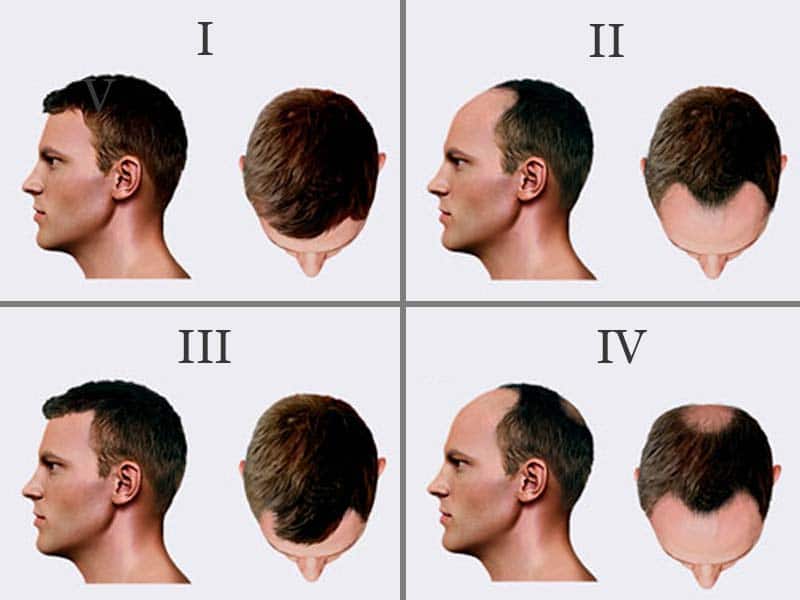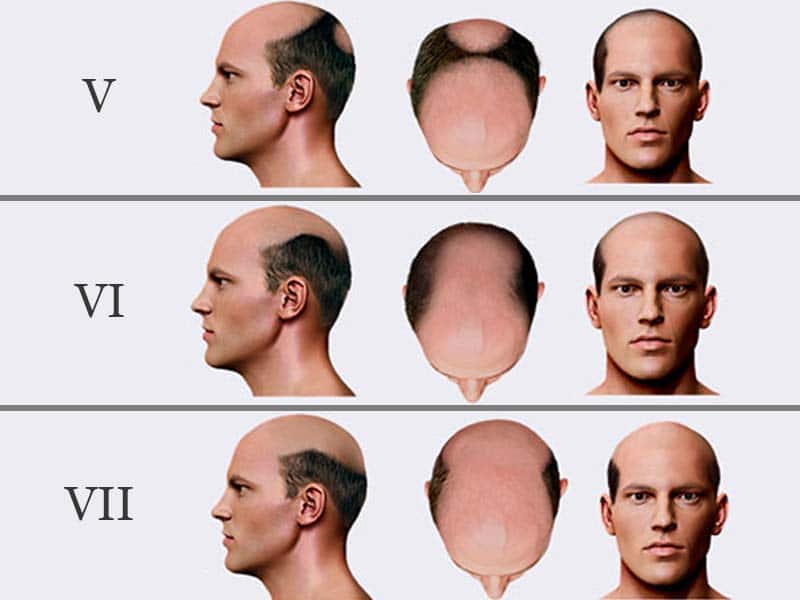 The grading of hair loss helps to decide the treatment plans and outcome.
What are the chances of going bald if a family member is already suffering from Baldness?
Since male pattern baldness is a genetic condition, there are high chances of occurence if family members like mother or father or anyone from the maternal or paternal side is bald.
Although it entirely depends on the gene expression that carry the potential of making an individual turn bald.
Are there any chances of getting hair loss despite any family member not having baldness?
Yes, baldness can occur despite not having any history of it in your family.
The prime cause behind it can be the hormonal change and its actions.
Furthermore, sometimes the genes responsible for hair loss are inactive state in parents that turns expressive in your body, resulting in baldness.
What are the possible treatments for Male Pattern Baldness?
We, at Vivid Skin Care & Cosmetology Centre, a renowned Skin & hair clinic in Rajkot are offering the best, possible treatments available in the new-age that are both advanced and known to bring out realistic and fruitful results.
Some of the treatments include:
Medical Treatment of Hair Loss
Hair nutrional supplements
Minoxidil
Finasteride
Procedural Therapies for Hair Loss
Lifestyle changes: Some people find that making changes to their diet and getting enough sleep can help to improve the health of their hair. In addition, avoiding certain styling techniques and using a gentle shampoo can also be helpful.

Surgical Management of Hair Loss
It's important to note that male pattern baldness is a genetic condition. These treatment options can help to slow hair loss and improve the appearance of the hair.
Are medicines effective for getting back hair on bald area?
Generally, both the medicines and therapies are considered to be effective for showing positive results in male patterned baldness. Though, it entirely depends upon the regularity of treatment by the patient.
"Earlier you start treatment, more are the chances of getting hair back by medical treatment and therapies."
Once hairs are lost, hair transplant treatment is considered as the best option, offering a good result in restoring the hair growth that's thick and healthy in nature.
When can I get a visible results?
Usually, it takes approximately 4-6 months' post treatment to see a visible change.
Treatment needs to be continued for long duration as advised by Dr. Pratik Sheth for getting improving results.
When can hair transplant be done?
Hair transplant can be considered for bald areas where hairs have become very fine and small or the area has become totally bald.
Initially you can consider taking medicines and therapy treatment for stabilising your hair growth and later, can opt for FUE hair transplant in Rajkot at Dr. Pratik Sheth's Vivid Skin Care & Cosmetology Centre.
Your Hair Consultation will include

Detailed hair consultation by M.D. Dermatologist
Video Hair Tricoscopy Examination

Personalized Hair Treatment Plan Suiting your needs

Hair Care Instructions
Photo Gallery
Videos
From Hair thinning to Winning! Transform your look by getting Hair Transplant in Rajkot
How to control hair fall and get hair regrowth for sure
Patient Experience After Hair Transplant: A Journey to a New Look
6 months result after Hair Transplant - Patient satisfaction 100%
FUE Hair Transplant in Rajkot - Patient Testimonial
PRP - A Great Cosmetic Injectable treatment for Hair Loss
How I Stopped My Hair Fall Problem.
Full Interview with Abtak - Hair Fall v/s Hair Loss
FAQs
While it is not always possible to prevent hair loss, there are some steps you can take to protect the health of your hair:
Eat a healthy, balanced diet rich in proteins, vitamins, and minerals
Avoid tight hairstyles and harsh hair care products
Avoid heat styling tools
Use a gentle, sulfate-free shampoo
Manage stress through healthy coping mechanisms such as exercise, meditation, and therapy
If you are concerned about hair loss, it is important to speak with a medical professional for a proper diagnosis and treatment plan.
Why VIVID Skin Care & Cosmetology Centre

US-FDA Approved Equipments
Expert Dermatologist Dr. Pratik Sheth

Patient Satisfaction

State of the art Technology

Result Oriented Treatments
What Patients Says
Reviews
As far As I know, Dr.Pratik Sheth, is the only Dermatologist in Rajkot, whose treatment are highly focused around Clinical Healing rather than superficial Cosmetic Corrections. Have Consulted him personally and referred multiple patients. Every time Highly Professional and Quality Care received.
Great treatment and I m well satisfied
It was excellent experience vivid skin care and knowledgeable staff and highly experience
Excellent results given by dr pratik Sheth sir thank you so much sir
Perfect treatment with awesome result..
Vivid as its name suggests is actually vivid. Dr Pratik Sheth is a highly experienced Dermatologist with in depth knowledge of the subject. He counsels very nicely with focus on each and every aspects of treatment details. One can get all dermatology treatment at vivid like vitiligo surgery , hair transplant, hair reduction, Laser scar removal etc.
Dr. Pratik guided one of my employee, had lead to excellent results and has very good staff. I would recommend dr. pratik to everyone for skin related ailments. Keep up good work Doc.
Dr. Pratik provides excellent skincare solutions, but the service at the medical center nearby can be slow, particularly when it comes to dispensing prescribed medications. Despite this, I still recommend Dr. Pratik for his expertise and personalized care.
Very good treatment with better results in skin treatment at vivid skin care
Very knowledgeable doctor and friendly staff.
Very nice treatment and the nature of doctor is very nice