Ingrown toe nail surgery in rajkot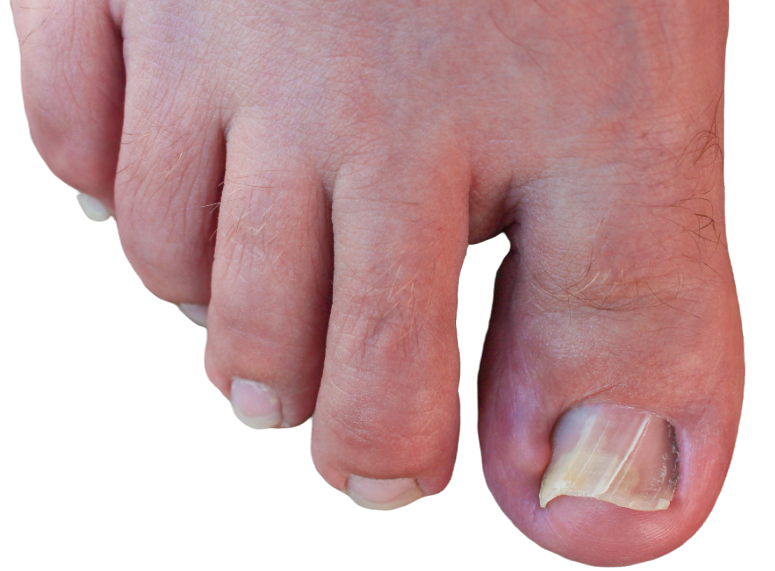 'Why Suffer Pain?'
Get your
Ingrown toe nail surgery
in Rajkot
at Vivid Skin Care
Ingrown Toe Nail Surgery
What is Ingrowing toe nail?
Ingrown toe nail is a condition where the side margin of nails starts to grow inside the skin rather than growing straight. Thus, the nail eventually damages the skin, thereby causing ulcer and recurrent infections.
What are the causes of ingrowing toe nail?
The fundamental cause of ingrown toenails is an imbalance in the size of the nail and the growth of the nail skin edge.
This imbalance can occur because of various reasons such as:
Wearing tight shoes. Especially shoes that are tight around the big toe.
Injury to the toe or toenail
Improper trimming of the toenail
Cutting your toenails too short or curving them too much while cutting
Injury caused by overly aggressive pedicures
Nail picking
Inherited causes
Who are at higher risk for getting ingrown toe nails?
Higher risk of getting ingrown toenails is seen in following people:
Adolescents and young adults
Athletes
People who have excessive sweating or hyperhidrosis of the feet
People with foot or toe deformities, such as bunions
People with severe nerve damage of the leg or foot
People suffering from diabetes
People with improper gait
People who have pincer nails or nails that naturally curl inward, etc.
What are the symptoms of ingrowing toe nails?
Redness, swelling, and pain in the affected toe.
You might also notice clear fluid coming out of the affected area.
Yellow pus is also seen in cases where an infection has occurred because of microbes.
Limping is seen in most people as they avoid putting pressure on that particular toe to prevent pain.
If not treated at the right time,
It can also lead to skin infection or cellulitis. The infection can even spread to the bones in severe cases.
Long-standing ingrown toenails can lead to the formation of granulation tissue. Granulation tissue is a highly vascular structure that bleeds at the slightest touch.
How is ingrowing toe nail diagnosed?
Your Dermatologist will look for skin overgrowing the nail, redness, swelling, or discharge and then make the diagnosis.
In most cases, no tests are required for the diagnosis. However, if you suffer from a severe infection, your doctor might collect the pus for microbial cultures.
What are the types of Ingrowing toe nail surgery?
There are two types of surgery for ingrown toe nails.
Partial toe nail avulsion with chemical cauterisation (Recommended)
Complete toe nail avulsion
How is partial toe nail avulsion done?
During partial toe nail avulsion, some part of your toenail will be removed depending on the extent of its growth into the skin.
A specific chemical in appropriate concentration will be applied on sides of nails, ensuring that only the center part of the nail grows in a normal manner.
This is a minor procedure done under local anesthesia.
Your IGTN consultation will include

Assessment by M.D. Dermatologist.

Customized Treatment Plan
Planning for procedure

Home Care Instructions
Photo Gallery
FAQs
Nail surgery
is a
minimal pain treatment
that can be done without worrying about the same. Especially under the supervision of our
expert Dermatologist
,
Dr. Pratik Sheth
further makes the procedure a hassle-free one. He is known to make patients comfortable before surgery, which is why he is amongst the best
Dermato-surgeons
in town.
Dr. Pratik Sheth mentions some basic precautions that one needs to follow after going through nail surgery. These includes the following:
1. Your dermatologist will put a dressing on the treated area that needs to be taken care of.
2. Don't apply water on the surgery-performed area. Not even opening it.
3. The intake of antibiotics and painkiller should be continued till the time your doctor asks you to stop it.
4. Give complete rest to the skin. So healing will be fast with no infection.
5. In case of any emergency, contact your dermatologist.
Ingrown toenail surgery cost in Rajkot depends on a lot of factors, such as:
1. The clinic or hospital chosen
2. Skill and expertise of the surgeon performing the surgery
3. The extent of the problems caused by the ingrown toenail
4. The type of procedure that is done for you.
Keeping all these in mind, an ingrown toenail surgery cost in Rajkot for a single nail can range anywhere between INR 5,000 to INR 10,000.
We aim to provide the best ingrown toenail surgery in Rajkot at Vivid Skin Care & Cosmetology Centre at the most affordable cost with best results.
Why VIVID Skin Care & Cosmetology Centre

US-FDA Approved Equipments
Expert Dermatologist Dr. Pratik Sheth

Patient Satisfaction

State of the art Technology

Result Oriented Treatments
What Patients Says
Reviews
As far As I know, Dr.Pratik Sheth, is the only Dermatologist in Rajkot, whose treatment are highly focused around Clinical Healing rather than superficial Cosmetic Corrections. Have Consulted him personally and referred multiple patients. Every time Highly Professional and Quality Care received.
Great treatment and I m well satisfied
It was excellent experience vivid skin care and knowledgeable staff and highly experience
Excellent results given by dr pratik Sheth sir thank you so much sir
Perfect treatment with awesome result..
Vivid as its name suggests is actually vivid. Dr Pratik Sheth is a highly experienced Dermatologist with in depth knowledge of the subject. He counsels very nicely with focus on each and every aspects of treatment details. One can get all dermatology treatment at vivid like vitiligo surgery , hair transplant, hair reduction, Laser scar removal etc.
Dr. Pratik guided one of my employee, had lead to excellent results and has very good staff. I would recommend dr. pratik to everyone for skin related ailments. Keep up good work Doc.
Dr. Pratik provides excellent skincare solutions, but the service at the medical center nearby can be slow, particularly when it comes to dispensing prescribed medications. Despite this, I still recommend Dr. Pratik for his expertise and personalized care.
Very good treatment with better results in skin treatment at vivid skin care
Very knowledgeable doctor and friendly staff.
Very nice treatment and the nature of doctor is very nice