Ear lobe repair surgery in rajkot
'FLAUNT YOURSELF'
Get your enlarged or torn
Ear Lobe Repair in Rajkot
at Vivid Skin Care
Ear Lobe Repair
Why Ear Lobe Repair (ELR) needed?
Split or torn earlobe is one of the most common aesthetic deformities of the ear.
This can result from heavy earrings, an earlobe that is pierced in an improper position, or from trauma to the lobe.
Regardless, it can cause distress to the patient who wants to continue to wear earrings or would like to restore symmetry to their earlobes.
Fortunately, Ear lobe repair is a simple and effective procedure that can fix these earlobe tears in dermatologist's clinic in Rajkot.
Get your ear lobes restored.
What are the types of ear lobe tear?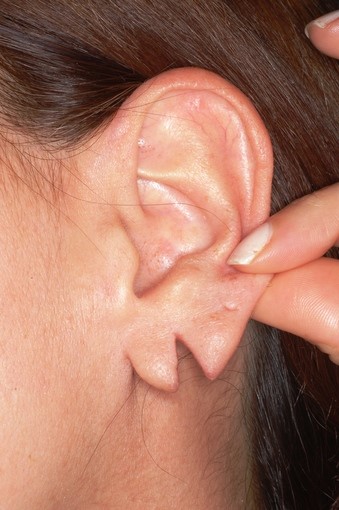 What methods are used for ear lobe repair in Rajkot?
By Stitches with Fine Sutures
PROS
👍 Done under Local anesthesia, so painless.
👍 No rest needed.
👍 No or minimal chances of opening up of tear.
CONS
👎 Cannot be done in persons having uncontrolled Diabetes.
By Surgical Glue / Chemical Cauterization
PROS
👍 No rest needed.
👍 Suitable for diabetics.
CONS
👎 High chances of opening up of tear.
Which method is more preferable for ear lobe repair?
Both are good, but Stitch Method is more preferable ✔️ for long term results.
How ear lobe repair is done?
First ear lobes are cleaned with antiseptics then Local Anaesthesia is given.
After onset of effect of local anesthesia, the margins are repaired and suture is put on both sides, front and back
A dressing is done and the sutures are removed after 7-14 days.
No rest needed
Patient can resume his work immediately.
How much time needed for ear lobe repair?
For Stitch Method, total time including all preparation is approximately 60-90 minutes.
For Glue Method, total time including all preparation is approximately 30-45 minutes.
Time varies depending on the complexity of ear lobe ear repair.
Who can undergo ear lobe repair?
All persons with enlarged or torn ear lobe and without keloidal tendency can undergo ear lobe repair after appropriate investigations.
Your ELR consultation will include

Assessment by M.D. Dermatologist.

Customized Treatment Plan
Planning for procedure

Home Care Instructions
Photo Gallery
FAQs
1. Due to heavy ear rings
2. Ear lobe piercing done in improper position
3. Trauma or Injury to ear lobe.
Mild pain is felt for few seconds while giving Local Anesthesia, then no pain is felt during entire procedure.
There are
no major side effects
of the procedure. Every process carries some form of risk. However, earlobe repair is a very safe process.
1. The most common is poor scarring due to poor healing, the creation of a notch where the skin meets and Infection. Revisions can always be done.

2. One can get Infection at site of ear lobe repair if site is repeated touched and home care advise given by doctor not followed properly.

3. Tear can open up if site is repeated touched and home care advise given by doctor not followed properly.

It should be noted that smokers tend to heal poorly and every effort should be made to evade nicotine goods for at least four weeks before & after the process to improve the scar.
Following Home care instructions MUST BE STRICTLY FOLLOWED after ear lobe repair.

1. Do not touch ear lobe repaired site unnecessarily. Don't allow water contact for 2 days.

2. Get your dressings changed regularly by doctor till stitches are removed.

3. Take proper antibiotics and painkiller to avoid infection and discomfort as prescribed by dermatologist.
3. Do not sleep on sides. Try to sleep straight if possible for few days.

4. Follow all instructions given by doctor.

5. Review after 7 days to remove suture.
6. Consult your doctor as early as possible if any bleeding, pain, pus develops.
Ideally one should
wait for at-least 3 months
if you want
to pierce exactly at previous site of tear.
If possible one should get pierced nearby the site of previous tear.

Piercing at nearby site can be done anytime.
Why VIVID Skin Care & Cosmetology Centre

US-FDA Approved Equipments
Expert Dermatologist Dr. Pratik Sheth

Patient Satisfaction

State of the art Technology

Result Oriented Treatments
What Patients Says
Reviews
As far As I know, Dr.Pratik Sheth, is the only Dermatologist in Rajkot, whose treatment are highly focused around Clinical Healing rather than superficial Cosmetic Corrections. Have Consulted him personally and referred multiple patients. Every time Highly Professional and Quality Care received.
Great treatment and I m well satisfied
It was excellent experience vivid skin care and knowledgeable staff and highly experience
Excellent results given by dr pratik Sheth sir thank you so much sir
Perfect treatment with awesome result..
Vivid as its name suggests is actually vivid. Dr Pratik Sheth is a highly experienced Dermatologist with in depth knowledge of the subject. He counsels very nicely with focus on each and every aspects of treatment details. One can get all dermatology treatment at vivid like vitiligo surgery , hair transplant, hair reduction, Laser scar removal etc.
Dr. Pratik guided one of my employee, had lead to excellent results and has very good staff. I would recommend dr. pratik to everyone for skin related ailments. Keep up good work Doc.
Dr. Pratik provides excellent skincare solutions, but the service at the medical center nearby can be slow, particularly when it comes to dispensing prescribed medications. Despite this, I still recommend Dr. Pratik for his expertise and personalized care.
Very good treatment with better results in skin treatment at vivid skin care
Very knowledgeable doctor and friendly staff.
Very nice treatment and the nature of doctor is very nice